Videos
The Pelsue Fiber To The Home Tent is one of the most versatile work tents on the market. It can narrow down to 2 feet wide to function in restricted spaces, or expand out to 6 feet wide. It can be used for a variety of applications from Fiber To The Home, to a trench tent, to an all-weather work tent.
Main Features
ADJUSTABLE WIDTH

RAPID DEPLOYMENT

SOLAR BLOCKING TOP

Includes
• Each tent can be secured with Velcro® brand or equivalent fastener to wrap around objects
• Fasteners to keep doors open
• Tent flaps
• Solar blocking top
• Heavy-duty frame
• 2 screen windows with roll-up flaps
• 2 tie-down cords through hubs
• 6 stakes and 4 ground loops
• Carrying case
Dimensions & Weight

6705 - 6'W x 6'L x 7'H Folded: 7"D x 4.6'H Weight: 17 lbs.
Tent Specs
Fabric
• 200 denier polyester (Top)
• 250 denier polyester (Sides)
• Urethane coated
• Waterproof
• Mildew resistant
• UV protected
• Flame retardant (to CPAI-84 & NFPA701)
Frame
• Cast aluminum hubs
• Pultruded fiberglass rods
Construction
• Double stitched binding
• Exposed roof seams sealed
• Non-metallic snaps & rings
Tent Customization (Call for Customization)

COLORS*
Don't like the color your tent comes in? The tent fabric can be customized, so you can get the color that fits your needs. The top and bottom can be any combination of the colors below: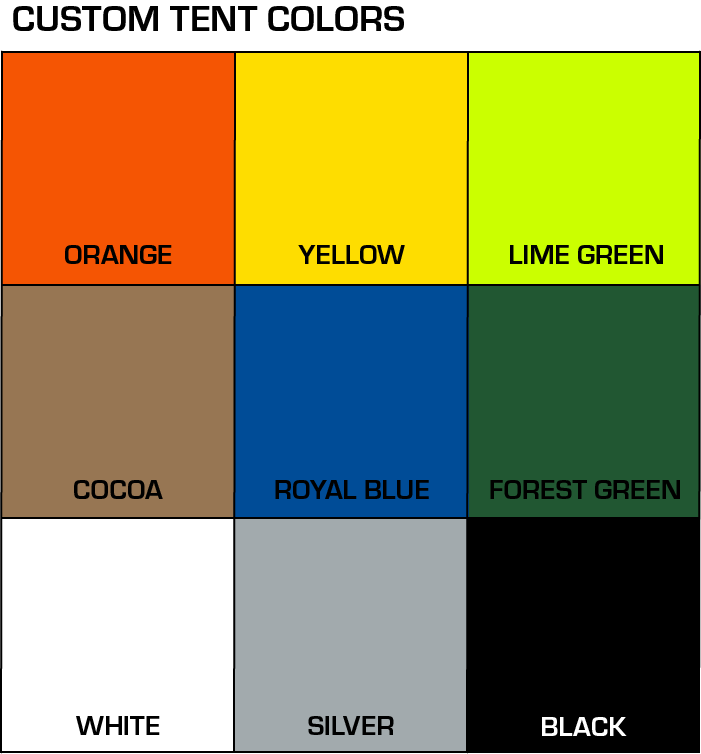 *Fabric specifications may vary depending on color selected. Due to different mill runs, these colors are not an exact indication of the actual fabric color.
Innovative Pop-up Design Allows for Easy Set-Up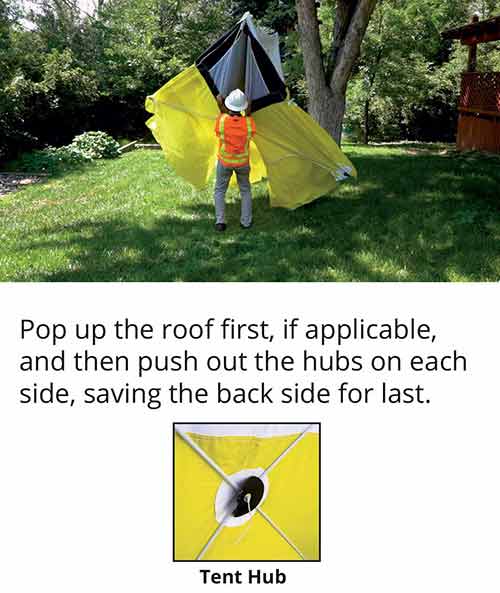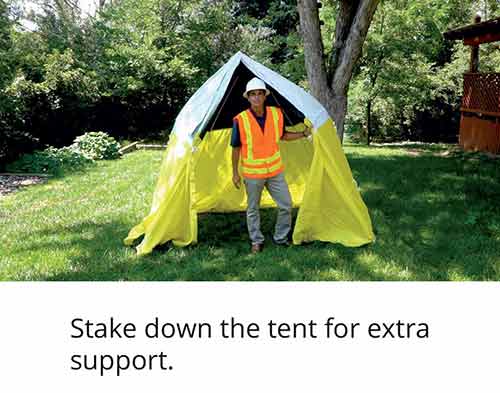 About Pelsue

Pelsue
is the premier manufacturer of work tents and shelters. Pelsue has been protecting workers from the elements since 1963 and proudly makes all of its tents in Colorado.