The Pelsue Standard Series Tents can be deployed rapidly and are easy to transport. They are great lightweight tents where extra functionality isn't needed. The tents incorporate a dual zipper roll-up door for easy entry and exit. The standard series tents are proudly sewn in America and are built to provide years of service.

Main Features
EASY SET-UP
ZIPPER DOOR
LIGHTWEIGHT
Includes
• 2 screen windows with roll-up flaps
• 3 tie-down cords through the hub
• Ground flaps
• Heavy-duty frame
• Dual zipper roll-up door
• 7 stakes and 4 ground loops
• Carrying case
Dimensions & Weight

6504A - Open: 4'W x 4'L x 6'H Folded: 6"D x 3.8'H Weight: 18lbs.
6506A - Open: 6'W x 6'L x 6'H Folded: 6"D x 4.5'H Weight: 20lbs.
6508A - Open: 8'W x 8'L x 6.5'H Folded: 7"D x 5.5'H Weight: 31 lbs.
6510A - Open: 10'W x 10'L x 6.5'H Folded: 8"D x 6.3'H Weight: 34lbs.
6514A - Open: 14'W x 14'L x 7'H Folded: 10"D x 10.3'H Weight: 162 lbs.
Tent Specs
Fabric
• 250 denier polyester
• Urethane coated
• Waterproof
• Mildew resistant
• UV protected
• Flame retardant (to CPAI-84 & NFPA701)
Frame
• Cast aluminum hubs
• Pultruded fiberglass rods
Construction
• Double stitched binding
• Exposed roof seams sealed
• Non-metallic snaps & rings
Tent Customization (Call for Customization)

COLORS*
Don't like the color your tent comes in? The tent fabric can be customized, so you can get the color that fits your needs. The top and bottom can be any combination of the colors below: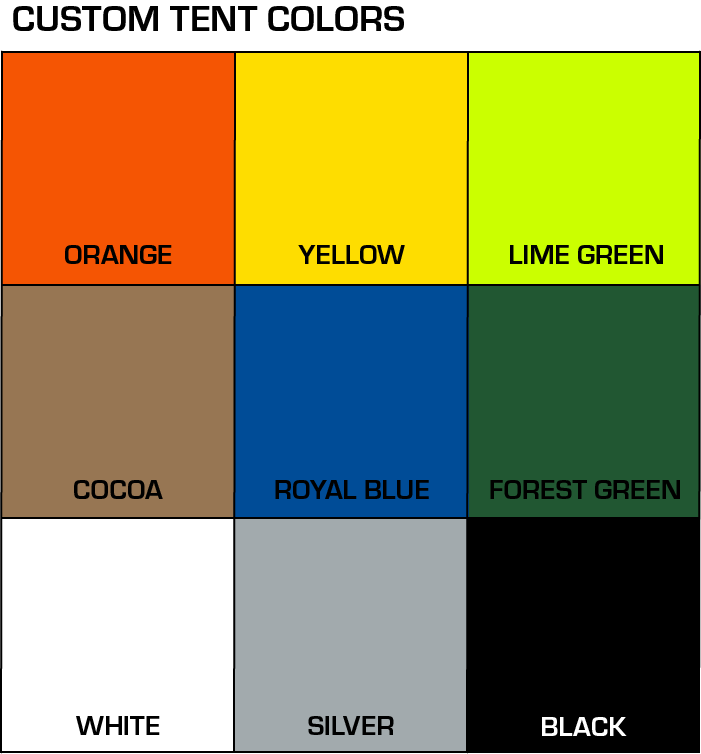 *Fabric specifications may vary depending on color selected. Due to different mill runs, these colors are not an exact indication of the actual fabric color.
CABLE SLOT

Need a cable access slot to accommodate splice cases? Add a cable slot to the rear of the tent:
VENTILATION SLEEVE
Looking for a ventilation sleeve for the pass through of vent hoses? Add a ventilation sleeve to the rear of the tent:
HALF-MOON DOOR
Want easier access when the tent is closed off? Pelsue can add a half-moon door on the rear of the tent: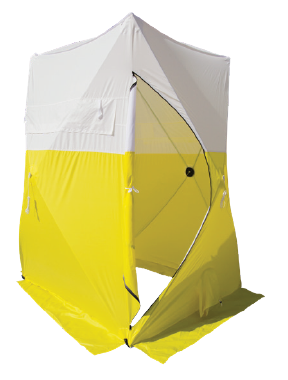 Innovative Pop-up Design Allows for Easy Set-Up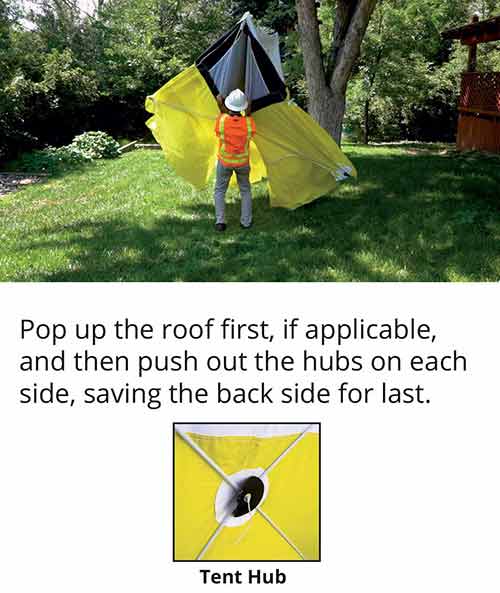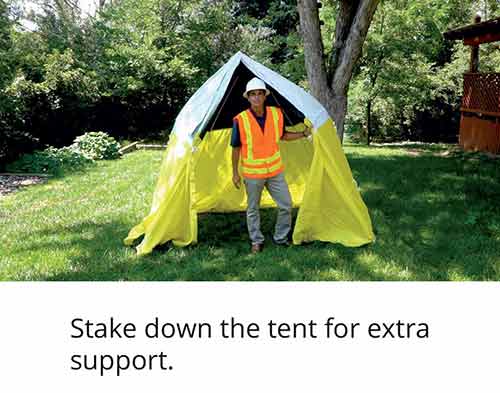 About Pelsue

Pelsue
is the premier manufacturer of work tents and shelters. Pelsue has been protecting workers from the elements since 1963 and proudly makes all of its tents in Colorado.